Harry Potter Games
Always wanted to explore the secrets of Hogwarts or just play a game of Quidditch? Here you can. Help Harry to escape from the evil Death Eaters or just spend your time finding the perfect outfit for Harry and his friends. Lots to do for everyone, regardless if you're in Gryffindor or Slytherin.
Seeker Practise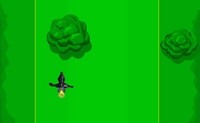 Our free Harry Potter Flash games can drop you right into the adventure found in the series of books and movies. Different games includes different characters and different styles of gameplay, but fans are sure to find something they will like on this page. Wizards, warlocks, monsters and more are included to really make these games fun. The best part is that you can play them for free online.

Some of them - like Harry Potter Magic are really simple dress-up games - but others let you get into the action. In Harry Map Game you have to help Harry with a map. We don't want to give away all the surprised in this fun game. For younger children, Harry Potter Coloring is a good choice because it's simple but still related to everyone's favorite wizard. Finding the best Flash games about Harry Potter doesn't require you to cast a spell of searching. If you look around this page, you're going to find many different games based on the popular books and movies. Even if you haven't read the books or seen the movies yet, we still think you're going to like some of the choices we have available for you to play.